I just read the online article for the Beyonce GQ Cover Photo. It didn't tell me much about her that I didn't already know. But I'd like to focus on the photo men are drooling over and mothers are saying, "WTF?" about.
Beyonce is super sexy on the cover with a cut-off jersey, a leopard print red bikini bottom, slinky gold jewelry, washboard abs that show no signs of stretch marks after having Blue Ivy last year and her signature hips and booty.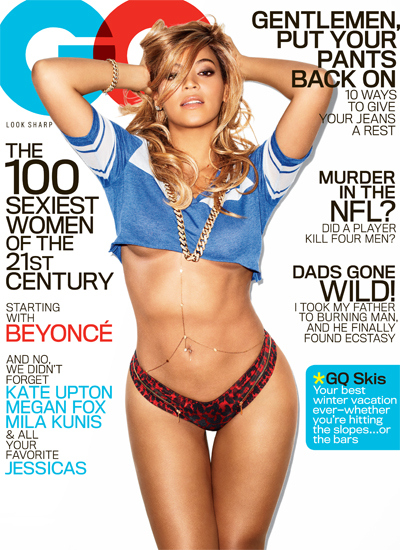 I am a huge Beyoncé fan with a Pinterest Board devoted to her.
I'm also a Mom who lost the baby weight shortly after I delivered A.J. almost three years ago thanks to breastfeeding. Then I sat on my butt, didn't get active and realized my belly has more rolls than a bakery.
I don't need her to make me feel fat. I can do that all by myself.
Some suspect this is either a pre-baby Blue Ivy photo shoot or extremely "Photo shopped." I say both.
I've read Facebook posts from friends who wonder if it's appropriate for her to do revealing photo spreads now that she's a wife & mom. I say if Jay Z doesn't mind, neither should we.
Another person questioned if Beyoncé's ability to bounce back post-baby should motivate "regular" moms to do the same.
Yes and no.
She's got personal trainers, assistants, a staff, a nanny or two, chefs and dietitians and a multi-million empire that makes it possible to for her to look picture-perfect.
Beyoncé is NOT Jessica Simpson. She had moderate weight gain during her pregnancy so she didn't need Weight Watchers.
In 2013, Beyoncé is gearing up for a big post-baby year with a Pepsi sponsorship, Superbowl Half Time Show performance and a new album. It's her job to be a fit, sexy singer. Of course, she's not sitting on her couch eating brownies a la mode any time she feels like it.
Do you compare yourself to celebrity moms?
Do any of them inspire or motivate you to change your lifestyle?
Future of Fitness Friday
I've been stalling on starting my own fitness regimen for 2013. I haven't hit the gym yet. I have taken a few walks. That's really not good enough.
I'm not naturally thin. When I gain weight – it goes straight to my belly and thighs.
Yes, I lost eight pounds this summer when I launched Fitness Friday last summer and I've kept it off (according to my scale). But I'm not as toned as I was when I was working out regularly.
On a brighter note, I've got a few tools in my fitness arsenal you'll see in the next few weeks.
A reputable supplement company reached out to me about using their products for 90 days.
I'm hosting a review/giveaway of a meal tracking & food intake program from Cafe Physique mobile & online fitness.
I've got a fitness opportunity that will be a huge surprise for my husband!
Stay up to date on Fitness Friday, parenting news and family fun around Atlanta by subscribing to my get daily e-mail alerts.