Before I get to my interview on the benefits of gluten-free diet for kids, I've got to discuss my week as a vegetarian. The staff at the (now closed) Return to Eden Organic Market (2335 Cheshire Bridge Road in Atlanta) guided me through some amazing good choices, including some frozen meals from Amy's like pot pie and pizza. They were tasty. The cheese-free pizza was a little dry for A.J. so I let him dip the pieces in tomato sauce.
I developed immense respect for vegetarians because their diet takes a lot of time to prepare and it helps to keep fresh ingredient nearby. I admit, I ate some turkey this week. But it's  start.
Benefits of a Gluten-Free Diet for Kids
Return to Eden Organic Market sells an array of gluten-free foods, including baked goods from Pure Knead bakery in Decatur.   Check out my interview with Michelle Kelly, the mom owner of Pure Knead Bakery, on the benefits of a gluten-free diet for kids. Please share it with other families who are coping with the symptoms she mentions.
One of the most delicious places to grab a gluten-free or dairy-free meal with your family is Uncle Maddio's Pizza with various locations around Atlanta.
Weight Check-In
My goal when I first started Fitness Friday in June 2010, was to lose 10 pounds by now. I started at 209 pounds, lost and gained a long the way. Last week I was one pound away from my goal. I'd hoped to be 199 today, but that didn't happen.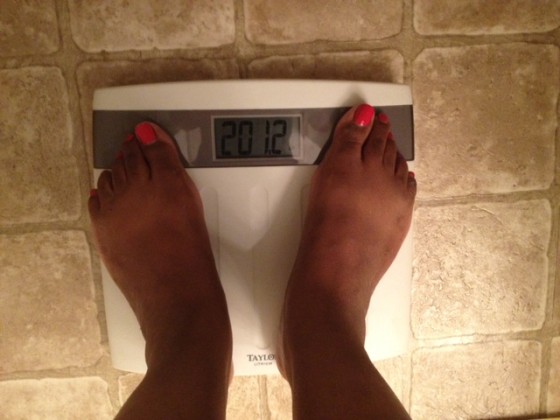 I gained a pound this week. I admit, I only worked out once and snacked a bit at night.