Dear Clinton Kelly,
You're so right.
I should strive to be the most fabulous version of myself.
In fact, the day you hosted Girls Night Out at Macys in Lenox Square Mall, I not only committed several fashion felonies, I was caught red handed. I threw on a yellow Gap pullover, my workout pants and because I hadn't done my hair – I threw on a hat. Usually, I don't run into many of my friends in my neighborhood. But Friday afternoon I ran into a friend (who reads my blog) at Emory Research Lab. Then I ran into an acquaintance at Kroger. Thank God neither of them volunteered to cart me off to Macy's for a new outfit. It was just that bad.
In fact, I remember thinking "When A.J. gets older he'd be embarrassed to see me like this."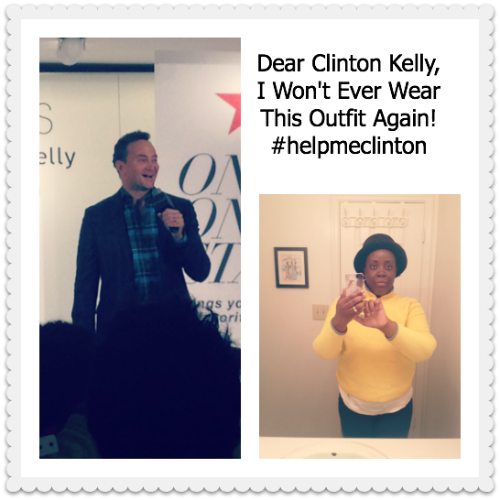 Clinton, hear my cry. On behalf of all the mothers who know it's wrong to throw on a t-shirt, stretch pants and sneakers on the way to lunch with a friend or to run errands. We only do it because it's quick and easy.  Go easy on us.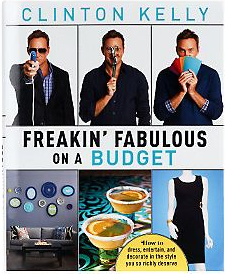 Thanks to you I will think before I grab an outfit simply because it's clean. I'll get rid of clothes that don't fit or that I haven't worn in years. My waistline is my "problem area" since it tends to fluctuate depending on my eating and exercise habits, so I'll look for outfits that feature belts or contouring.
I'm going to read your book, Freaking Fabulous on Budget because Lord knows my budget is tight. My husband, I know would love for me to step-up my fashion game too. When we met, I wore suits, full makeup and heels everyday for my jobs as a news anchor. Now he's lucky if my yoga or pajama pants are stain-free and I bothered to twist my hair.
I probably need a few key pieces I could interchange throughout the week. I may even try a few of the fashion trends you showcased in the fashion show. I shared my lessons learned from the show on Mom Favorites where I'm an Atlanta contributor.
Follow Clinton Kelly
Follow @Clinton_Kelly on Twitter. Use the hashtag #helpmeclinton when you post a fashion question. Clinton or a member of his team may reply to you.  Check out the #helpmeclinton app on the Macy's Facebook page. Catch him weekdays on The Chew and on reruns of TLC's "What Not to Wear."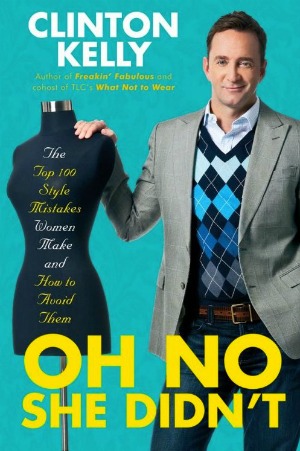 Comment below: Is your go-to outfit really fashionable or just comfortable? Do you have an outfit that you shouldn't wear ever again?
I'm also giving away my copy of Clinton's Book, Freakin Fabulous on a Budget during my #FiguringOut40 Twitter Chat, November 22nd at 9 p.m. 
Disclosure: I'm a member of the BeEverywhere Society. This post is sponsored by Macy's.