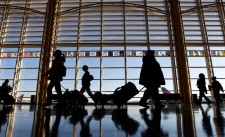 Just in time for the hectic holiday travel season there's a movie that will make you bust a gut!
But before I get to that – have you ever had a flight delayed by snow or bad weather? It's happened to me more times than I can count.
For Christmas 2010, we were stuck in New York for 5 days due to snow. But at least we were at my parents home. Not the airport.
So imagine if that perfect someone for you is delayed in the airport too. Your eyes meet…and then what happens?
Check out the Connecting Flight movie:
Wasn't that the cutest clip from the movie by
Sears
?
Have you ever made a love connection at the airport or on a flight?
Considering how much I traveled pre-marriage and pre-baby it's never happened to me.
I have had some in-depth conversations with the person sitting next to me on a long flight.
One of my best flying experiences was when I flew with A.J. to New York for the first time. He was three months old and an avid breastfeeder. I was so concerned about nursing him on a plane because you never know who you'll sit next to. The guy next to me was super friendly. Didn't complain about sitting next to an infant and didn't give me the creepy eye when I was nursing (with my cover, of course.)
Disclosure: This post is sponsored by Sears. I am a Sears Blogger. All thoughts and opinions are my own.