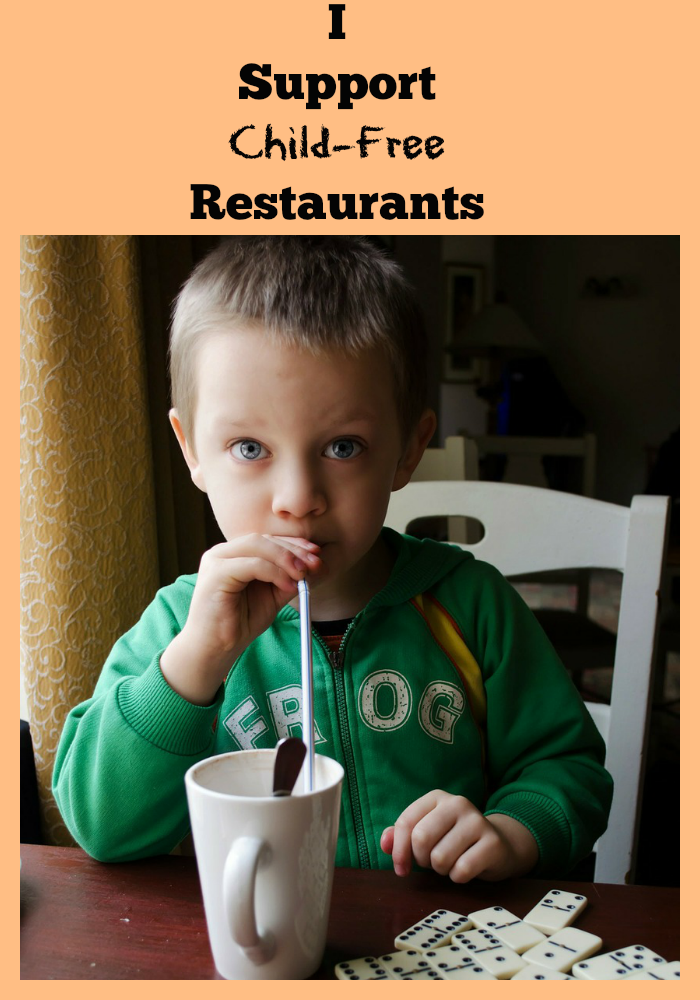 Yes, you read that title correctly.
I'm a mommy blogger who supports child-free restaurants. Usually my colleagues come out and rant against this trend – every time it's headline news that a restaurants bans children. But I believe there are some places, especially certain restaurants where children just don't belong.
Before you get all worked up, watch my video explanation first – then talk back to me in the comments.
Watch: I Support Child-Free Restaurants

Child-Free Dining
According to this Today Show Report from 2013, a Pennsylvania restaurant noticed that its earnings went UP when it instituted a curfew for children.
Talk back to me in the comments: Is child-free dining important to you on certain occasions? Have you ever taken your children to a fine-dining establishment late at night?
I called the Georgia Restaurant Association to see if it was aware of any local restaurants with restrictions or time guidelines for kids. I also asked for a comment to react to this restaurant trend. The receptionist told me the media team wasn't aware of any restaurants with these rules. The association also had no comment, but Marketing and Communications Manager Rachel Bell added in a follow-up email, "We do not have a position on this topic and leave it up to the restaurant's discretion on what their policy is on this matter."
Then I tweeted  CBS 46 Reporter Adam Murphy (@MurphyCBS46) because he produces The Restaurant Report. He reminded me that The Vortex, a bar and grill in Little 5 Points and Midtown, is over 21 only. Even though this is clearly stated on the restaurant's website and I assume at the door, I found the funniest quote on the site: "To further clarify, if your children, toddlers or infants are under 21 years old, they are not allowed on the premises of either Vortex location, until their 21st birthday. Even if they already do smoke and drink."

We love casual dining restaurants like Tropical Smoothie Cafe, Newks Cafe, IHOP, Uncle Maddio's Pizza and more listed in Atlanta Family-Friendly Restaurants. What are your favorite places to take your children for lunch and dinner?