Caring for A.J.'s curly hair
My 2 year old son A.J. has a signature look: silver rimmed glasses and an afro. Maintaining his hair has been a challenge over the last year because it gets tangled, he puts his hands in his hair when they're covered with food and he doesn't like to sit still while we brush it.
For parents with little ones who have curly hair, Cara B Naturally products are a godsend and live up to the term "all-natural"!
When we say we're all-natural, we mean it. CARA B Naturally products are free of parabens, petrolatum, phthalates, sulfates, mineral oil, artificial fragrances and preservatives. As proof of our commitment to using only natural ingredients, our products have been awarded the coveted Natural Products Association certification – the only personal care product line specifically formulated for ethnic children to earn such a distinction.
You may remember my interview with Landra Booker Johnson, the co-owner of the company, last year when she was in Atlanta promoting the products' availability at Whole Foods Stores in Atlanta.
Cara B Naturally Review of Hair Care Products
As soon as you use Cara B Naturally on your child's hair you'll notice a difference in manageability, moisture and maintenance. My husband and I shampoo A.J.'s hair two to three times a week, then use the leave-in conditioner and moisturizing mist daily. It makes brushing his hair a breeze!  See how much fun A.J. had at bath time: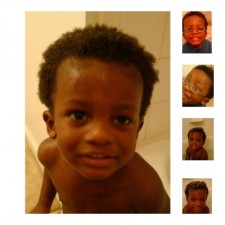 Video Vignette
Check out this video featuring how easy it is to maintain your child's hair using Cara B Naturally products. Then follow the directions below on how to share the video to enter the giveaway.
Enter to win $60 Cara B Naturally Gift Basket
Increase your chances of winning by taking on more entries.
a Rafflecopter giveaway