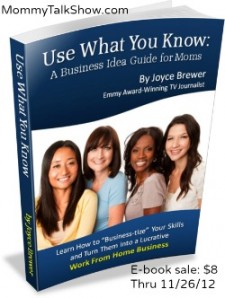 Moms, if 2013 is the year you decided you're going grow or launch your own business, my e-book, Use What You Know: A Business Idea Guide for Moms,  is a must-have to help you.
Maybe you've got a to-do list a mile long now that holidays are here.
Maybe you're re-evaluating what's next for your career.
Maybe you love staying home, but are looking for a little more personal fulfillment.
Maybe you have a business idea that's been in your head, but you haven't written it down or created a business plan.
Wherever you are professionally or emotionally, I think my e-book, Use What What You Know: A Business Idea Guide for Moms can give you inspiration and guidance to launch your own business.
This is my first book, but I have almost 20 years of experience in journalism, a Master's Degree in Broadcast Journalism and an Emmy award-winning career. I've turned that background and my new experiences as a mom in Atlanta as a talk show host, internet marketer, social media consultant and video marketing expert.
Inside the book available for download for just $8 through November 26, 2012, you will learn how I and five other Atlanta mompreneurs I interviewed:
Turned our skills into businesses so we can work from home (or anywhere with a wi-fi connection).
Grew our businesses, networked with clients and relied on low cost marketing.
Juggled the needs of our families with the demands of our business.
Created unique work-arounds for businesses we started with no loans or investors.
DOWNLOAD THE E-BOOK NOW
Regular price: $12
Sale price: $8
Use the promo code: blackfriday
through 11/26/12
Meet the Moms Featured in the E-book
I've had the pleasure of capturing videos from my book signing event and classes where the Atlanta mompreneurs featured in the guide joined me as presenters. Watch and learn…
[tubepress mode="playlist" playlistValue="NL7B8xFQ5MfOTVHfUx_vyITjfGf76Yxo"]