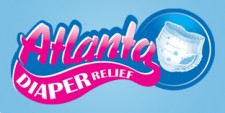 Atlanta mom Kia Morgan Smith is working to make sure needy families get diapers and created Atlanta Diaper Relief earlier this year.  Without the money to buy diapers, many Atlanta families
Go without food because they need the money to pay for diapers.
Cannot use or take advantage of free or subsidized childcare, if they cannot afford to leave disposable diapers at the childcare centers.
Are at risk for child abuse. A baby crying from a soiled diaper for a prolonged period of time may be at a greater risk of physical abuse by the caregiver, as recognized in studies of patterns of abuse among low-income families.
Those are just a few of the reasons Kia Morgan Smith created the FIRST diaper bank in Metro Atlanta, Atlanta Diaper Relief, designed to get diapers to needy families and the agencies who serve them. Thanks to Atlanta Diaper Relief, here's how needy families can pick up diapers they need and agencies can become a member of the Diaper Distribution Network.
 Join in the family-fun at the Atlanta Diaper Relief kick-off charity event:
Saturday, September 24, 2011 from 2-6 p.m.
Catch Air Marietta, 2505 Chastain Meadows Parkway, Suite 103
Drop off donated diapers and take part in the children's dance party.
Atlanta Diaper Relief just got a big boost thanks to a major diaper donation.
Keep a tissue handy as you watch an Oprah-style surprise for the Founder of Atlanta Diaper Relief, thanks to Black and Married With Kids and the Pampers Baby Board.