Our family loves movies, so we're delighted to share an opportunity to see the Wonder Park movie for free in Atlanta. Below you'll find everything you need to be a part of the Atlanta Wonder Park movie screening on Saturday, March 9th. You will need to arrive early since the free passes don't guarantee admission. So be prepared to stand in line with your friends and family to get in.
What's the Wonder Park movie about and who's in it?
CAST: Jennifer Garner, Matthew Broderick, John Oliver, Mila Kunis, Kenan Thompson, Ken Jeong, Norbert Leo Butz, Brianna Denski,  and Ken Hudson Campbell
As a fan of Kenan Thompson and Mila Kunis, I'm most excited to hear their voices come to life in the animated film.
SUMMARY: "Wonder Park tells the story of a magnificent amusement park where the imagination of a wildly creative girl named June comes alive."
Along the way,  June meets some amazing animals like beavers, a bear, a porcupine and even "chimpan-zombies" who work with her and against her to bring the amusement park back to life!
Wonder Park Movie Trailer
Atlanta Wonder Park Movie Screening
Date: Saturday, March 9th
Start Time: 10:00 AM *Arrive early to get in* 
Location: Regal Hollywood (3265 Northeast Expy, Chamblee, GA 30341)
Download An Admit Two Screening Pass: http://www.gofobo.com/MTWONDER
Download code: MTWONDER

*Please note: RSVPs do NOT guarantee seats at the screening. The theater is overbooked to ensure capacity and seating is filled on a first-come, first-serve basis. Guests are encouraged to arrive early. You and your guests must enter the auditorium together.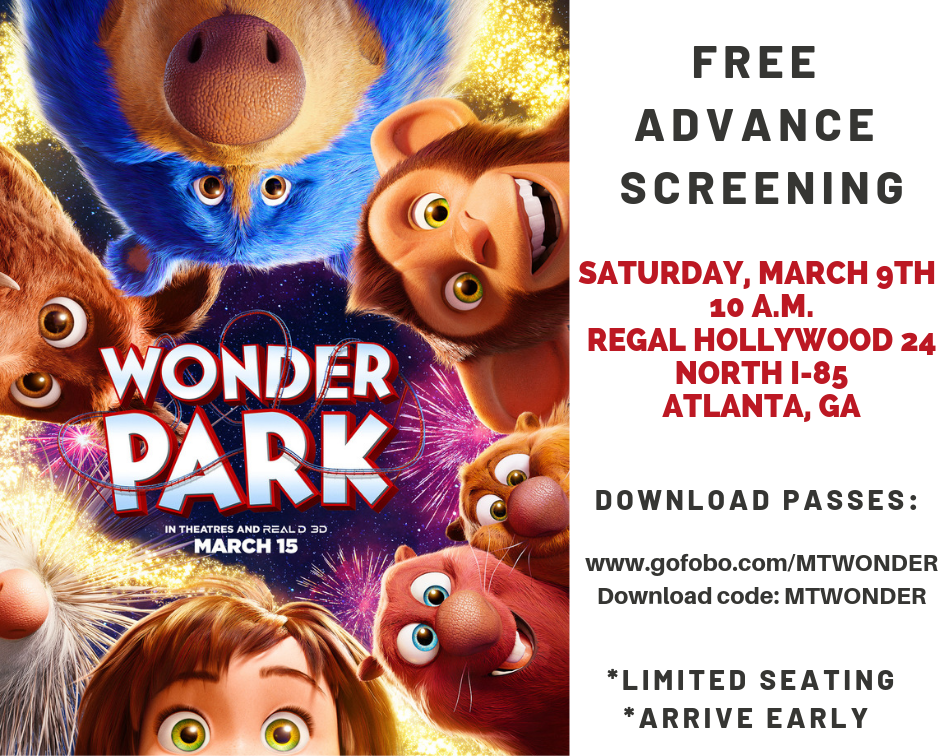 FACEBOOK: @WonderParkMovie
TWITTER : @WonderParkMovie
INSTAGRAM: @WonderParkMovie
Missed the Atlanta Wonder Park Screening?
Wonder Park will be in theaters nationwide Friday, March 15th.