Webisode #5.7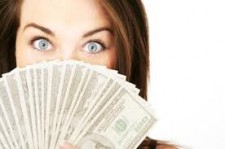 Pay yourself first. That's often a challenge for new business owners like mompreneurs and work at home moms.
But in order to enjoy all the benefits of running your own business vs. having a hobby, you need to plan to pay yourself eventually. Plot it out in your business plan and stick to it.
Listen as the mommy guests explain their challenges and plans to play themselves a salary.
Meet the guests:
Laurie Morrison, Creator of Main Street School of Art in Downtown Tucker (watch her video profile)
Michelle McDonald, Inventor of maternity clothing products; follow @wefit2029
Felicia Walton, Sassie Babies embroidered & monogrammed accessories
Here's a recap of our suggestions to plan to pay yourself if you're a mompreneur or work at home mom:
Keep costs low with limited inventory.
Consider raising your rates.
Plan ahead!