Back to School Savings
Almost everyday this month, I've got a message in my inbox about a free or discount offer on back to school supplies and clothes.   Since A.J. isn't school-age yet, I wanted to share ways for you to save money for back to school needs with well-known companies like VistaPrint and Sears, as well as companies I just heard about – Paper Coterie and CleanWell.

6 Free Back to School offers from VistaPrint

VistaPrint wants you to choose from 6 free back to school items you and your children will love.
Grab the FREE Business Cards for yourself or to promote a school function. Calendars can help keep the family schedule on track. Brand new t-shirts are also handy for the beginning of the school year. A personalized tote bag will come in handy with sports and after school activities. Choose from free photo books for year-round memories.
The products are free. All you have to do is just pay for shipping!
Free Journal from Paper Coterie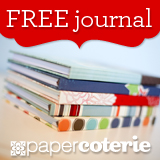 First time customers can order a free journal from Paper Coterie.  A journal can be a great way to track your child's progress, events and milestones throughout the school year.
To order the free journal (pay your own shipping) enters this coupon code at checkout: welcomejournal
 While you're on the Paper Coterie site, check out the photo books, stationery, cards, calendars and announcements you can order.
20% off CleanWell Alcohol-free Sanitizers

Now that our children are back to school they're also sharing germ (yuck).
They're borrowing pencils, pens and food from each other. What's a concerned mom to do? CleanWell offers alchohol-free, 100% biodegradable, and triclosan-free sanitizers options for wipes and soaps.
The Back to School Starter Pack includes enough wipes to pass one canister along to your child's teacher (who'll love you for it).
20%-50% off Sears

We all know the Sears Brand for major appliances and lifestyle items. I bought several items for A.J.'s nursery from Sears almost three years ago. Now you can save 20-50% off on back to school clothes and uniforms. These codes expire soon, so hurry!
EXTRA 20% off Boys', Girls', Young Men's & Juniors' Clothing and Kids' Shoes with code BTSSTYLE20 thru 9/1/12. This included Levi's pants and backpacks.
Print a coupon to use in the store or purchase online for 50% off Dockers School Uniforms plus EXTRA $10 off orders of $75 & Up with code 12DOCKERS10 thru 8/29/12.
You can also save 50% on Carter's clothes for your newborn, infant or toddler.
Use the social sharing tools below to Like, Share, Tweet and +1
these offers to someone you know who'd like to save on back to school items.