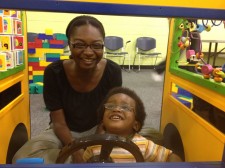 The talk show topics at HippoHopp Duluth this month offered something interesting for moms who are in business to mom who need help planning a child's birthday party with healthy food options.
Birthday party special offer:
Get $25 off a Deluxe Birthday party reserved by July 30th at the HippoHopp Duluth location only.
– Use HippoHopp's reservation system to select a date and time for your Deluxe party.
– On the "Build your package" page type "Mommy Talk Show" in the additional comments.
– Pay your $100 deposit; $25 will be deducted when you pay your balance.
Special thanks to the families who joined us for a morning of play at Atlanta's premier eco-friendly play space, as well as the amazing insight of the mommy guests who joined me on the show:
– Wendy Syed, HippoHopp Atlanta & Duluth owner
– Agatha Achindu, Yummy Spoonfuls Organic Baby Food
– Uli Ingram, PuliWooli cloth diapers & accessories
Check out these video websisodes that cover all of these topics. Like, share or tweet it to an Atlanta mommy friend who you think would enjoy watching them.
Disclaimer: This post is sponsored by HippoHopp Duluth. All opinions are 100% my own.