Maybe you're like me and have been putting off sending out holiday cards until the last minute.
Just in case  – I wanted to share this last-minute sale for Tiny Prints where you can get 25% off site wide, free shipping or a custom free notepad. Order now and your holiday cards will arrive next week so you can get them in the mail.
When do you typically put your holiday cards in the mail?
Today Only – 12/8
Free Custom Notepad with purchase of 50 or more holiday cards. Use the promo code: FREENOTEPAD at checkout. The code expires tonight (12/8) at 11:59 p.m. PST.
25% off site-wide
Save 25% off all orders using the code DEC25 at checkout. The code expires 12/9 at 11:59 p.m. PST.
The Holiday Cards look great. But check out the New Years & 2013 selection as well. This way if you know you won't have time to get your address list together you can still send cards out.
I liked the Bold Start card design to wish friends and family a joyous 2013.
Is there a a holiday card or New Years design you like?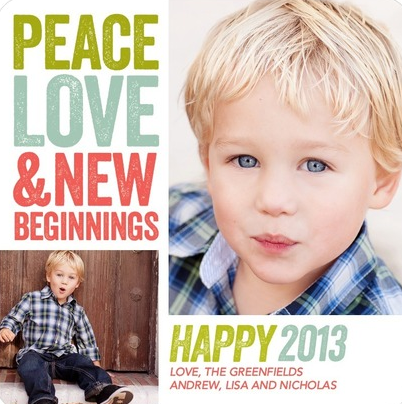 Free Shipping
Enjoy Free Standard Delivery with your order of $49 or more with the code: HOLFS at checkout. It's for limited time only and should last through 12/14.