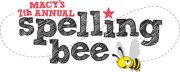 For the avid young reader in your family Macy's is hosting the 7th Annual Spelling Bee. In August and September, Macy's 27 regional Spelling Bee will allow pre-teens to show they can S-P-E-L-L. Atlanta students can compete Saturday, August 25th at the Lenox Mall event.
I can remember competing in a spelling bee in elementary school. I loved to spell and took pride in showing off my talents in front of my class.
A.J. is too young to compete, but do you have an 8-11 year old who loves to read and spell? Do you think they'd love to show off too? Make sure they don't miss the opportunity to compete in Atlanta next weekend.
What: Macy's 7th Annual Spelling Bee in Altanta
Who: 8 – 11 year olds who are U.S. residents can enter
Where: Lenox Mall in Atlanta on Kids Level 1
When: Saturday, August 25th at 2 p.m.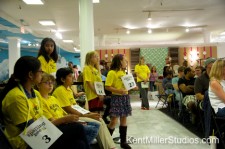 Winners get the glory along with some amazing prices including
an iPad
$100 Macy's Gift Card
a tutoring scholarship from Kaplan
an online gift card from Scholastic
Spelling Bee Rules
How to enter: Contestants must come to one of the above-mentioned Macy's locations on the corresponding date, accompanied by a parent or legal guardian. Registration will open 30 minutes prior to the advertised start time for each event. Participation is limited to the first 50 entrants in each location. Parent or legal guardian must provide written consent at time of entry in order for a child to participate. Contestants must provide proof of age acceptable to Sponsors.
Live outside Atlanta
There are plenty of opportunities this month for your child to compete in Macy's 7th Annual Spelling Bee from August 25th through September 22nd. Check out the rest of the cities on the schedule.
 Disclaimer:  I am a member of the Everywhere Society and Everywhere provided me with compensation for this post about Macy's Spelling Bee.  However, all thoughts and opinions expressed herein are my own.