One of the most frightening moments of motherhood, was when I gave our on A.J. a small piece of fried fish on Christmas Eve while we were out of town. The problem is – he's allergic to fish and I thought a little bit wouldn't hurt. How wrong I was! He threw up, his lips got swollen and he wouldn't stop crying. Thanks to some Benadryl he got better, but keeping kids with food allergies safe can be life threatening.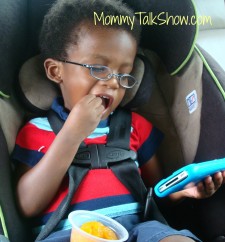 Your child's school is probably peanut-free and you're hearing about more kids who are allergic to darn there everything.
Anytime I tell someone our son A.J. has a long list of food allergies (milk, egg, soy, chocolate, nuts, seafood) –  they usually ask "What CAN he eat?" He can eat a lot, especially fresh fruit and vegetables. Although he prefers chicken nuggets and french fries.
For us, food allergies influence where we eat out (no peanut oil except Chick Fil A or seafood restaurants) and who we hire to babysit our son (they can only feed him the food we leave for him.) His bowls and cups have  Mabel's Labels allergy alerts and I created a video review of how they work.
As we get ready for summer camp and travel, I've asked a group of parenting bloggers who are also coping with their child's food allergies to join me this week for a live webcast: "Keeping Kids with Food Allergies Safe."
Parenting Bloggers/Guests:
LaShawn Wiltz:  http://chroniclesofpookahsmom.com (@rosesdaughter)
Jo-Ann Rogan http://punkymama.com (@punkymama)
Jackie Bledsoe Jr. http://jackiebledsoe.com/ (@jbledsoejr)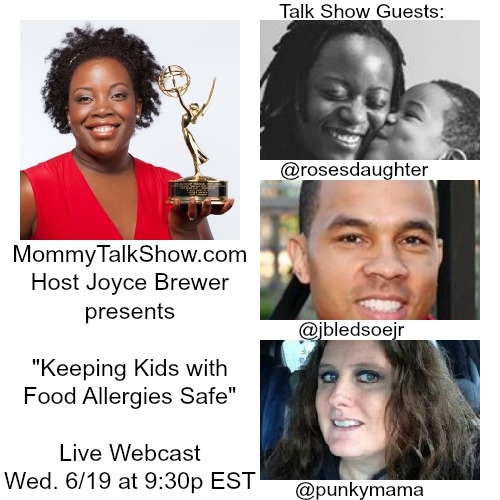 It will be live on the Mommy Talk Show YouTube channel and I'll place a video player here Wednesday night.
What questions do you have about kids and food allergies?
Are you happy with how your child's pediatrician or allergist answers your questions? 
Share this post and join us for the live show: "Keeping Kids with Food Allergies Safe."