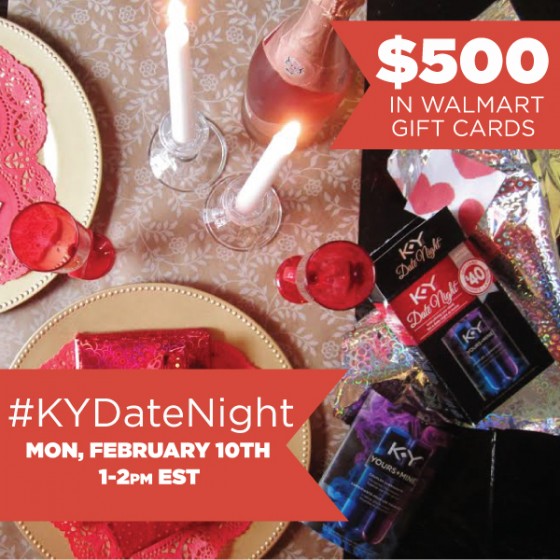 Photo Credit: Mama Nibbles
Romance is in the air as we plan for Valentine's Day date nights with our loved ones. Planning a date night in can be intimate and relaxing with the right romantic pairings. All it takes is a little creativity, chemistry and your main squeeze to make the night extra special.
Join myself, @sweeptight, along with co hosts @TheRebelChick and @MommaDandDaBoyz  as we discuss ways to help ignite the spark and heat up your Valentine's Day. We promise to keep things family-friendly and fun!
We'll chat about ways to have an exciting date night at home without breaking the bank. Maybe you can order your favorite romantic film on demand and put the kids to bed a little early so you and your honey can have some alone time. What do you think is the key to a perfect date night at home? How can a few decorations give your home a romantic feel for the big night?
Join me at the #KYDateNight Twitter Party
DATE:  February 10, 2014
TIME:  1-2pm EST
PRIZES:  5 – $100 Walmart Gift Cards
EARLY BIRD: 1 – $50 Walmart Gift Card
RSVP:  #KYDateNight Party Page
LOCATION:  SoFabChats Tweet Grid
HOST:  @sweeptight
CO HOSTS:  @TheRebelChick, @MommaDandDaBoyz, @MommyTalkShow
PARTY RULES:  #KYDateNight Official Rules
 Tweet to share
Join Me for the #KYDateNight Twitter Party 2/10 at 1p.m. EST http://t.co/p8ttySruaS #ad #cbias pic.twitter.com/NqOGTegd5T

— Joyce Brewer (@MommyTalkShow) February 8, 2014
 Love Twitter Parties? New to Twitter Parties and want to learn more?
 Stay in the loop with the SoFabChats Twitter Party Schedule, RSVP for individual Twitter parties, find SoFabChats Twitter Party Tips and sign up for SoFabChats Twitter Party email alerts!
RSVP today and learn how you can enter to win our special Early Bird gift card prize!