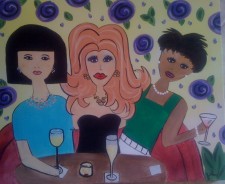 One of the newest and coolest ways to have a Girls Night Out by "staying in", celebrate a birthday or the upcoming holidays is by hosting Atlanta art painting party.  Angie Wehunt of Artzy Party wants Mommy Talk Show viewers to have the opportunity create a piece of art with a special promotional discount. More on that in a second, but first…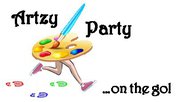 What is Artzy Party?
It's a mobile painting party. Angie brings the easels, paint, palettes, brushes, drop cloths, table coverings to the venue where you're hosting an Atlanta art painting party. Then she gives you step-by-step instruction on how to create your own painting. Don't worry if you are not artistic because I'm not either. Angie works with all age groups and skill levels to recreate a painting of your choosing. Check out some of the creations in the Artzy Party Gallery, like the Girls Night Out photo above.
Where could I host an art painting party with Artzy Party? Your home, office, community center, church or store. All you need is permission from the owner/manager to host the party.
Do I have to clean up the mess from the art painting party and what if I don't have enough tables or chairs? Angie arrives 45 minutes early to set-up and if you don't have tables or chairs for your guests, Artzy Party can provide them for an additional fee. It takes Angie about 30 minutes to clean up after the art party.
What does it cost to have a mobile painting party with Artzy Party? Adult parties last two to three (2-3) hours, include the 16×20 canvas for your painting, and costs $35-45 with at least six (6) painters at the party. Artzy Party accepts all major credit cards.
Discount for Mommy Talk Show viewers
Mention "Mommy Talk Show" when you book an Artzy Party through January 31, 2012 and the "party host" paints for free. Six (6) guests are required to attend to Atlanta art painting party within a limited service area around Atlanta.
To book your event E-mail: angie@artzyparty.com or call 404-895-7069. You can also connect with Arty Party on Facebook & Twitter.
Disclosure: This post is sponsored by ArtzyParty.com.