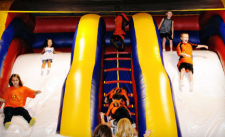 One of A.J.'s favorite places to play is HippoHopp indoor play space and birthday party center. You may recall we taped the show on-location at HippoHopp Duluth in May 2012 featuring the organic and healthy snack options for young families. HippoHopp is also eco-friendly. The staff uses "green" products to keep the building clean. They also recycle and reuse what they can.
Your children can enjoy the inflatables slides, toddler toys and dine at the HippoHopp Cafe.
Buy HippoHopp Duluth Groupon Offer
The Duluth HippoHopp location has a special Groupon discount offer for indoor play or family fun that's designed to help you save more than 50% on your next visit. You must purchase the Groupon by 10/10/12 at midnight. This is not available for the Atlanta location.
Choose from two options:

$15 for family package with admission for two kids, one 16-inch cheese pizza, and four soft drinks (up to a $32 value)
$35 for 10 admissions (up to an $80 value)
Video Series
Watch the talk show videos sponsored by HippoHopp Duluth focusing on the deluxe birthday parties and featuring Atlanta mompreneurs as guests.