in Downtown Tucker
offering art classes for home schooled students, toddlers to teens and adults
Webisode #5.9 – Part II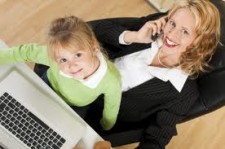 For some strange reason women don't take compliments well. Sometimes we fail to see ourselves the way others see us. I include myself in this group even though I have an established career in television news and an Emmy award to show for it.
Once we become moms it gets even harder to hear compliments through the constant to-do list running through our heads. What moms miss out on and desperately need to hear are things like  "you have great ideas" or "you're talented."
So in Part II, I act as a "loving mirror" for Felicia Walton of Sassie Babies custom embroidery and Laurie Morrison of the Main Street School of Art in Dowtown Tucker.