Mother, Author, Poet & Artist
Lisa Darnell is one of the amazing moms I've met on Twitter. At first, I was just impressed with her amazing book, My Mommy's Water Balloon and how it explains child birth to children in a way they can understand. Watch my video review of her book which includes our interview and video of my son,  A.J., reading the book.
Lisa's talents also include poetry and art which she's found a way to weave together.
Her poem, "Mirror,"
is the perfect gift for a dear friend or new mom.  Matted in silver, it is a beautiful reminder of the bond of  friendship and sisterhood:
When you look in the mirror,
I hope you see
exactly what you mean to me.
An amazing lady,
a trusted friend,
someone who will be there
until the end.
When you look in the mirror,
I hope you see
the beautiful woman
God shared with me.
– L. Darnell
New Venture: Soy Candles
Lisa's talents aren't limited to writing and art. Now she has created a triple scented, line of hand-poured soy candles with no preservatives that are perfect as holiday gifts or to treat yourself.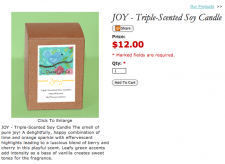 The four soy candle fragrances:
Joy – The smell of pure joy! A delightfully, happy combination of lime and orange sparkle with effervescent highlights leading to a luscious blend of berry and cherry in this playful scent. Leafy green accents add intensity as a base of vanilla creates sweet tones for the fragrance.
Love – A wonderfully feminine blend of roses and violets with hints of orange, coconut and bergamot. Smell this warm embracing scent, that appeals to everyone, and be reminded that you are loved.
Peace – A wonderfully clean fragrance, like you just got out of the shower. Mandarin, lavender and chamomile, neroli and lily of the valley combine to make this the perfect candle for your evening bath.
The Wisemen – For the holidays this candle brings exotic frankincense with nutmeg, cedar wood, sage and cinnamon, in addition to very light florals for brightness. The gifts and smells of the very first Christmas celebration!
Discount for Mommy Talk Show viewers
Spend $24 or more on books, art or candles on Lisa Darnell's site and get FREE SHIPPING.
At checkout use the coupon code: MTSFreeShipping
Lisa fits in her writing, poetry and art even though she's working a full-time job and has a son in college. Follow Lisa on Twitter and Facebook to stay up-to-date on her work.
Disclaimer: This is a sponsored post. All opinions and thoughts are my one.