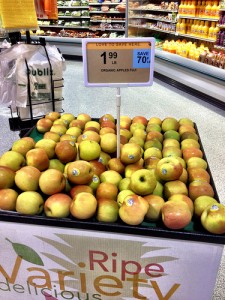 Guest post from TheThriftyMama.com
You've seen the extreme couponing hype on TV. People are walking out of grocery stores paying mere pennies for hundreds of dollars worth of items. But can you really plan real, wholesome meals for your family with mustard, toothpaste and shampoo? Probably not. That just makes for really great TV, but it's not very realistic when it comes to saving money and providing great meals for the family.
Here are three simple ways that you can save money and plan great meals for your family, THIS WEEK!
1. Stick to buying items that are part of the buy one get one free sales. This way you are automatically saving half on your groceries. Usually in these sales, both items ring up half price, so you do not have to buy two of an item. Just be sure to check your store's policy on buy one get one free items.
2. Stick to buying produce that is on sale and/or in season. This can be tough for some people, especially if you have a favorite fruit. But if you will focus on just buying the produce that is on sale, this will save you a significant amount of money. This will also allow you to try some great fruits and vegetables you might not have tried before. Check out a site like allrecipes.com to find recipes built around specific ingredients.
3. Look for those manager's specials or markdowns at your local store. A lot of stores will heavily discount healthy and organic items quite often, so this is an easy way to save 50% or more on items that are normally very expensive to buy.
By just using these simple tips, it's easy to start shaving some of that cost off of your weekly grocery bill. What are some of your tips for saving money while providing wholesome meals for your family?
My name is Crystal Collins, and I'm passionate about helping people save money while living well! Come join me in my upcoming Savings Nation Grocery Savings Workshop next Thursday, March 22, 2012 to learn strategic grocery shopping, smart couponing and easy menu planning. You may even walk away with  a savings buddy! More information on Couponing Classes in Atlanta.