This shop has been compensated by Collective Bias, Inc. and its advertiser. All opinions are mine alone. #WindexMovieNight #CollectiveBias #PutSomeWindexOnIt
I have wonderful memories of going to see movies in the theaters with my parents when I lived at home. My Dad and I saw his favorite action films and war movies together. My Mom and I saw romantic comedies like My Big Fat Greek Wedding. I remember us laughing like crazy in the theater when the Dad used Windex® Original Glass Cleaner to heal every family ailment.
No matter how many times I set alerts on my calendar, I'm always surprised when it reminds me that a family member is visiting in less than a week. It's even more serious when my Mother visits us in Atlanta. It's a priority for her to be here every March for our son's birthday party which blows his mind with happiness.
Right before I went to pick my Mother up at the Atlanta airport I did a quick once over of the house and hit some key areas that would catch her attention. I'll show you how Windex® brand products helped me complete a 15 Minute Home Cleaning Dash. You can use this guideline anytime you have a guest coming to visit on short notice or feel like freshening up your home. Set a timer if you feel like it will help you get things done faster.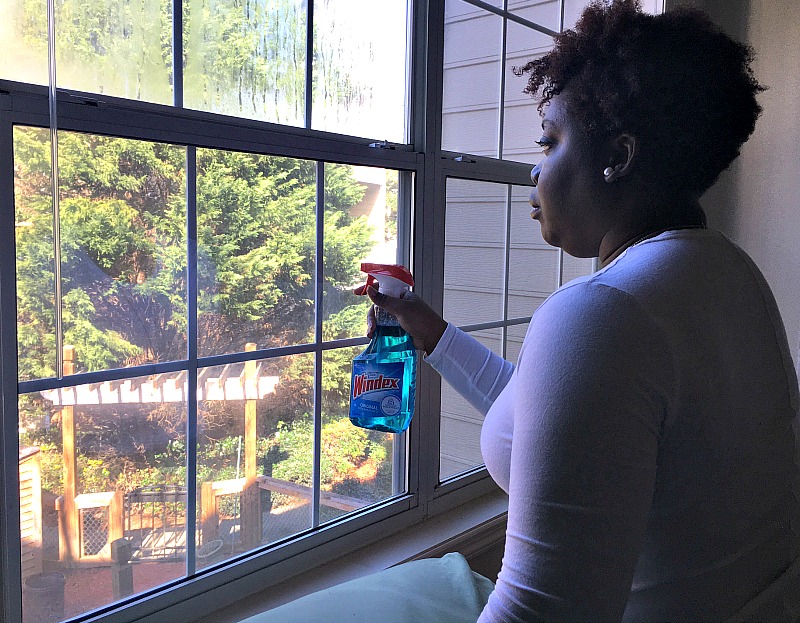 15 Minute Home Cleaning Dash with Windex®
Bathroom (Six Minutes) – Our son has horrible aim when he rinses and spits after brushing his teeth before bed and after breakfast. Windex® Original Glass Cleaner is great for a streak-free shine on the bathroom mirror and medicine cabinet mirror.
I turned my attention to the sink fixtures, sprayed them with Windex® Original Glass Cleaner and put some elbow grease behind it to wipe them down.
We have shower curtains in both bathrooms, but Windex® Original Glass Cleaner is perfect for glass shower doors as well.
Living Room (Five Minutes)
This is the perfect place to use the Windex® Original Glass Wipes on TV screens and monitors. They're great for removing the smudges and fingerprints from the electronics your family uses most. Our son's fingerprints and dust from the top of our TV were a breeze to remove.
Bedroom (Four minutes) – Our son loves to look out of his large bedroom window to see the weather. Too bad he leaves little fingerprints behind. You can see their silhouette right above my fingers. Windex® Original Glass Cleaner helped me wipe them away in a breeze, along with some dust on the window ledge.
Did you beat the clock and have leftover time? Use Windex Original Glass C in the kitchen too. Wipe messes from your windows, sealed granite and marble counters, and fixtures.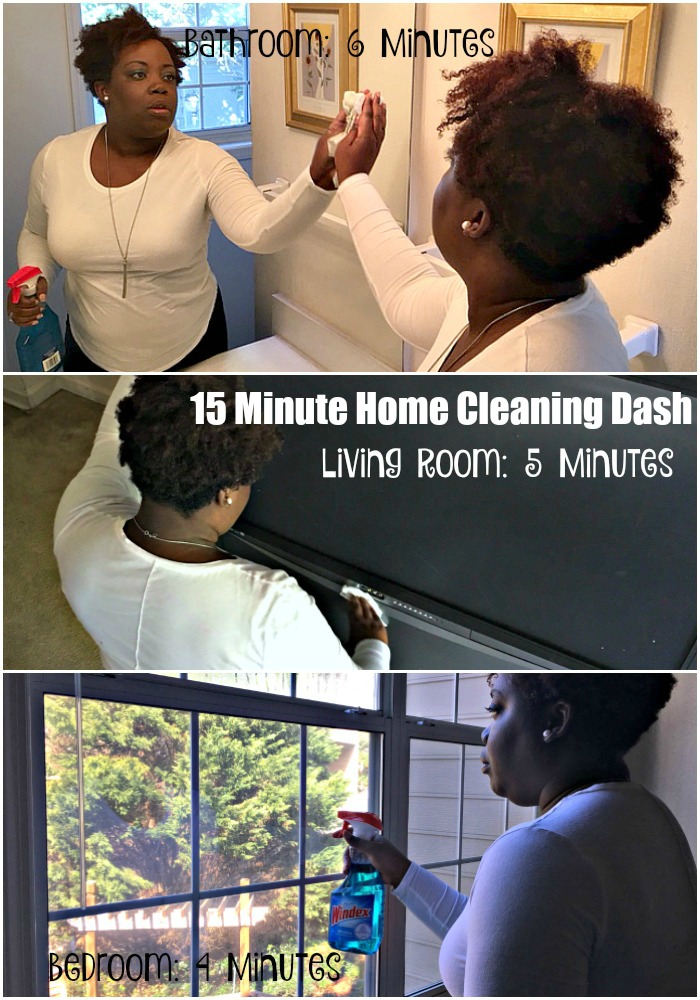 Whew! I think I made a dent in my housework. Maybe my mom won't notice the pile of unfolded clothes in the corner of the room. Thanks to a 15 Minute Home Cleaning Dash that took care of last minute messes, we can turn our attention to celebrating our son's sixth birthday with his friends and classmates.
I found Windex® Original Glass Cleaner in the cleaning supply aisle of my neighborhood Kroger store.
Comment below: What's your go-to way to get home cleaning done quickly? Do you use a professional home cleaner or do-it-yourself?