He's Cute at 4, But Will You Call Him a Criminal When He's 14?
Every time A.J. and I are out shopping, playing at the park, visiting an attraction around Atlanta or even going to church – someone inevitably says three words that make my blood boil:
"He's so cute."
I say "Thank you" and I've even taught him to say "Thank you" for the compliment. Then I take a breath and try to calm down.
My sweet, funny, inquisitive and playful baby boy IS cute because he's four years old and considered harmless – for now.
But those three words immediately make my mind fast forward to 10, 12, or 14 years from now when he's 6 feet tall, slim and trim just like his Daddy, hanging with his friends and someone –  anyone  – thinks he's not cute anymore.
They will only see him as a criminal.
Maybe A.J. is wearing contact lenses and not the tiny, green frames he sports now.
Maybe A.J. has grown out his short Afro into locs or twists.
His Dad and I aren't there holding his hand or pushing him around in a shopping cart.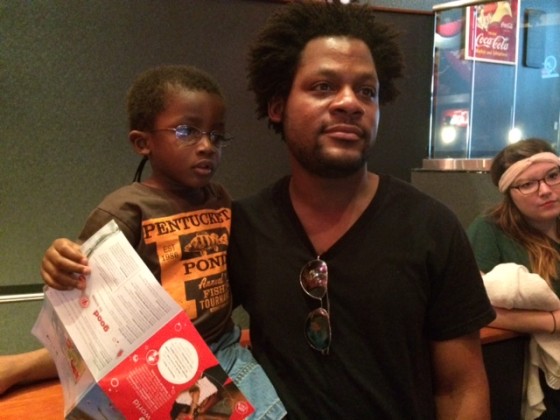 It's just A.J. versus the world that doesn't hold the lives of young black men in any regard. And if you don't think that last statement is true, ask Michael Brown's mother or Trayvon Martin's mother or Sean Bell's mother – if young black men are treated fairly in this country or the world.  Ask them what it was like to bury the child they carried in their wombs, nursed and raised – only to be gunned down senselessly. They had sons who were once 4 years old and looked just like A.J.  In case you missed it, I participated in the #HeIsNotASuspect campaign with Essence Magazine after the not guilty verdict for George Zimmerman.
Most recently, I challenged the moms and dads who follow my Mommy Talk Show Facebook page: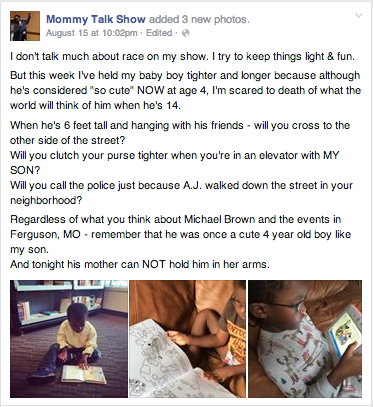 It  was my way of acknowledging yet another murder of an unarmed Black teenager, Michael Brown in Ferguson, Missouri. I put it into perspective of A.J. who is just 4 and asked you some reflective question on what would you do when he's 14.
I realize you may not be Black, like me. Heck, I may be the only Black person you feel like you know. Just don't call me your "Black Friend, Joyce" – that's an excuse used to justify negative comments made about most Black people because there's at least one Black person you know and like.  It's extremely offensive.
My Family
My parents were born in 1930's in this country. So I'm just one generation away from Jim Crowe, segregated schools and lynchings.  Last year, A.J. and I participated in a video campaign with Wells Fargo Bank where we shared my Father's untold story of segregated life in Charleston, SC.
My Father listened to Malcolm X speak on the streets of Harlem in the 60's. My older siblings were often the only Black person in their class after schools were integrated.  Around 2002 or 2003, my husband  (then co-worker) was pulled over and racially profiled numerous times while driving to my home in Flowood, Mississippi. I've been called Nigger twice to my face. The last time A.J. was just an infant in the backseat of my car as we drive right around the corner from our home in Atlanta.
So I'm not talking about racism from a distance. I'm talking about it up close and personal from decades ago, all the way up to a few years ago.  This happened to me and the people I love.
I know I can't tell you what to think about race & America. But as a parenting talk show host, I can challenge you to take a closer look at what you say and what you do when a young Black man walks down your street or stands outside a store in your neighborhood. Otherwise,  the Black man you think is a criminal –  will someday be my cute son.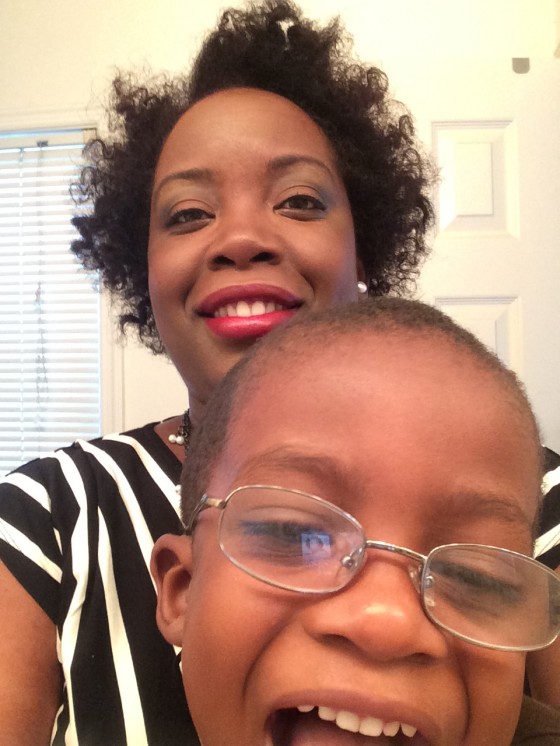 ——————————————————————————————————————————————————-
My blogging colleagues from a variety of backgrounds have also shared their perspectives on Ferguson, Mike Brown and Race:
Brandi Riley: Help Your Child Understand Ferguson (And Other Tragedies)
Janeane Davis: The Ferguson Shooting and My Son
Elizabeth Broadbent: On Recognizing My White Privilege as a Parent in the Face of Ferguson
Thien-Kim Lam:  Ferguson, MO Can Be Anytown, USA 
Joyce Brewer
Creator & Host of Mommy Talk Show. Emmy award-winning TV journalist.Wife & Mommy; Mom Blogger; Social Media Coach; Long Island, New York transplant living in Atlanta, GA. Follow Joyce on Twitter @MommyTalkShow Author of Use What You Know: A Business Idea Guide for Moms featuring interviews with mompreneurs who created businesses using their skills & backgrounds.