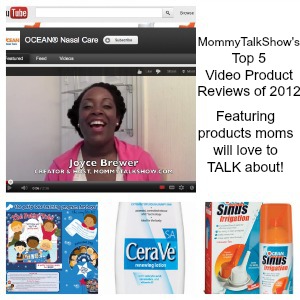 I'm so proud of the video product reviews I created for 2012 because they really seemed to answer the questions moms wanted to know most. From potty training to activity boxes for toddlers to products to help you through flu & cold season – all of these videos were viewed more than 100 times thanks to you.
I'd love for you to share, like, pin and tweet this post to your friends & family if you know they're looking for products they can trust.
Comment below: Which review do you like the most or have more questions about?
1. See how the J.L. Childress Car Seat Travel Bag  survived the trip to Disney World in Orlando and several other flights.
2. Check out my video demonstration of Ocean Nasal Care products, the #1 pharmacist recommended saline product. It's safe to use while you're pregnant and on infants since it's non-medicated.
3. The Potty Tots Training Program got us over the hump when it came to potty training A.J. We used the book, DVD and training chart for more than a month. Then A.J. successfully started peeing in the potty. Potty Tots Creator Jill Leech also answered parents potty training questions in a Facebook chat.
4. I first heard about Cerave Skin Care products from A.J.'s pediatrician to help manage his eczema. Thanks to this review I got to see how they worked for me too.
5. BabbaBox is a monthly activity box for toddlers and preschoolers that A.J. loved. Even though we got it in July, he's still exploring the activities inside it.
Disclosure: The video reviews are sponsored by the respective companies.
All thoughts and opinions are my own.