Valentine's Day gifts don't just have to be red or pink. Why not go green and show the Earth some love too?
I looked around and found some eco-friendly Valentine's Day gift ideas. Some of them are even on sale.
Buy Local & Pick up the Gift
Whether you're ordering flowers, chocolates or baked goods – buying local can be eco-friendly. Instead of adding to the delivery truck's scheduled stops –  pick up your gift. Plan ahead and pick up your Valentine's Day gift when you're in the neighborhood so you're not burning extra gas.
If you see some wild flowers growing in a field, farm or community garden?
Ask for permission to grab some as a gift. Make a monetary donation in exchange for the flowers!
Energy-Efficient Electronics
For the gadget-lover in your life, there's an array of energy-efficient electronics that can be used at home or in the office.
Sharp DKA1 i-Elegance Music System with Alarm Clock for iPod  (value: $199) is Energy Star Qualified. It also serves more than one purpose by playing music, charging iPhones and iPods, playing CDs and helping you wake you up on time.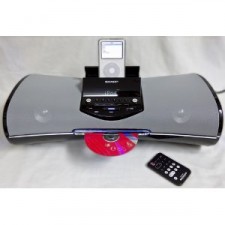 Is there anything else the techy person in your life would love for Valentine's Day?
Organic Teatulia Tea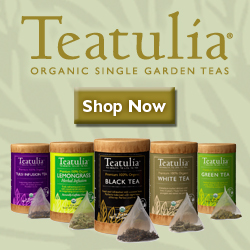 For the tea drinker in your life consider Teatulia Organic Teas grown in Northern Bangladesh.
Teas are USDA Certified Organic and come in eco-friendly packaging.
Teautlia actively supports social programs in Bangladesh to increase literacy, alleviate poverty and promote health.
I reviewed the Teatulia Sampler last fall and enjoyed the peppermint tea especially. Get 25% off any order with the code: team4me25
Cards & Calendars from Vistaprint
You may not think of business cards as a Valentine's Day gift. But if your loved on is in business or has a active social life they need business cards. Vistaprint has a 50% off sale for recycled and reusable products and you don't need a promo code!
Organic Cotton Pajamas & Bathrobes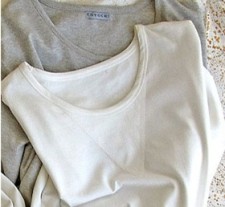 This is a personal favorite. I've never had the pleasure of wearing organic cotton pajamas, but they sure sound comfy.
The Green Store features women's jersey knit nightshirts and gowns.
Since one of my goals is to get more rest this year, I can imagine myself slipping into these comfortable pajamas.
But first, I'd soak in a relaxing bath surrounded by candles.
Then dry off in an organic cotton bath towel.
Get 10% off your order from The Green Store with the code: GREENLIVING or free shipping on orders over $50 with the code: TUGSFREESHIP
Would you like to get any of these as a Valentine's Day gift?