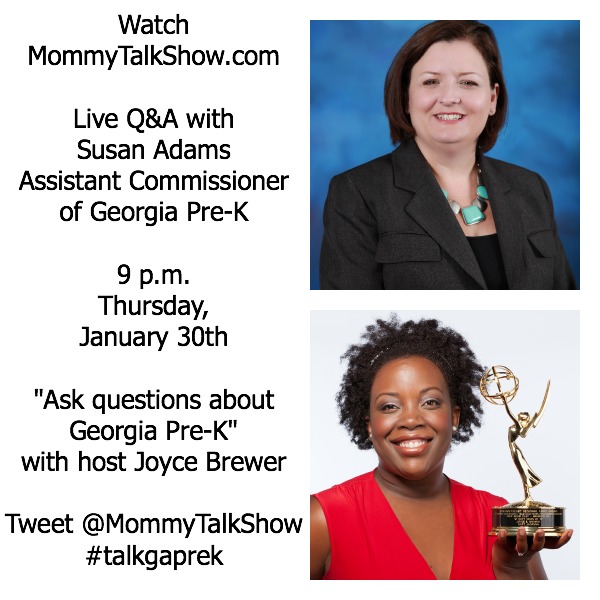 Live Webcast: Ask Questions about Georgia Pre-K #talkgaprek Thursday 1/30 at 9p
As an Atlanta Mom of an almost four year old, I've been exploring all of our pre-k options for the fall. Among them is the lottery-funded Georgia Pre-K program which provides education for pre-k students in public and private schools. Join me Thursday, January 30th at 9 p.m. for a Live Q&A with Georgia Pre-K Assistant Commissioner, Susan Adams. Atlanta location sponsor, Return to Eden Organic Market, provided a $25 gift card to a viewer who tweets a special message during the live event. (scroll down for details)
This is where you'll watch the video Thursday night and here's the Spreecast link if you'd like to ask a question via your webcam. You're welcome to RSVP on the Mommy Talk Show Facebook  event.
Georgia Pre-K
.
What is Georgia's Pre-K Program?
Georgia's Pre-K Program is a lottery funded educational program for Georgia's four year olds to prepare children for Kindergarten.

Who is eligible for Georgia's Pre-K Program?
Children four years of age on September 1 of the current school year who are Georgia residents are eligible to attend Georgia's Pre-K Program during this school year.

When are the programs offered?
Pre-K programs usually operate on the regular school system calendar for the length of a typical school day. Programs may be offered at local public schools or through private providers of preschool services.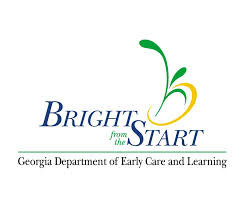 To understand the Georgia Pre-K lottery system, visit the Georgia Department of Early Care and Learning Pre-K page. There are deadline for the Fall parents need to follow to be considered for public and private pre-k programs.
Be sure to Pin this story, tweet it and share on Facebook. Follow along #talkgaprek on Twitter and Facebook to get involved in the conversation.
If you're camera shy, but still have a question post it below this story on the Mommy Talk Show Facebook page. 
Joyce Brewer
Creator & Host of Mommy Talk Show. Emmy award-winning TV journalist.Wife & Mommy; Mom Blogger; Social Media Coach; Long Island, New York transplant living in Atlanta, GA. Follow Joyce on Twitter @MommyTalkShow Author of Use What You Know: A Business Idea Guide for Moms featuring interviews with mompreneurs who created businesses using their skills & backgrounds.