A new survey by Restaurant.com shows 70 percent of parents "say that going out to eat with their kids is a great way to spend time with the family." I'm among them. I decided to share my favorite family friendly Atlanta restaurants and explain why. I love to find the "kids eat free" restaurants in Atlanta so I can splurge on other things.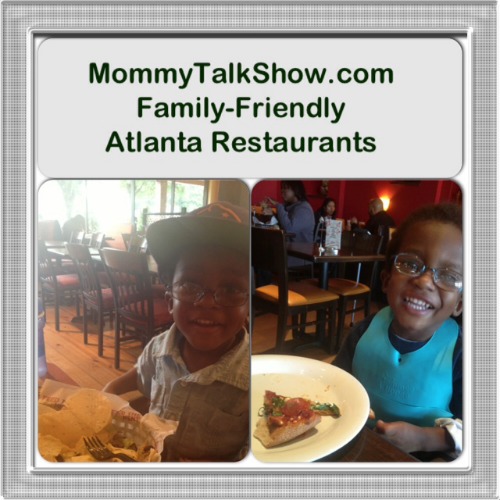 Keep reading for
-   My favorite family-friendly Atlanta restaurants (some of them are chains you can find wherever you live)
-   Results of the Restaurant.com survey
-   How to enter a $25 Restaurant.com gift card!
Keep in mind, I live Intown Atlanta so my favorite family-friendly Atlanta restaurants are
IHOP – Kids eat free everyday, the food is made fast and the waitresses are always so sweet to A.J.
Flying Biscuit Café – There are a number of locations around Atlanta. Kids eat free Sunday-Thursday at the Brookhaven location. Call to check the Flying Biscuit Café location nearest you. The only draw back is the Flying Biscuit serves fried potatoes and not French fries. But my son is usually agreeable.
Ikea – Kids eat free Tuesdays at the Atlantic Station location. Do some window-shopping, grab lunch for yourself and free lunch for your child.
Cici's Pizza – who doesn't like a pizza buffet? We like the selection, the ability to order a cheese-free pizza (A.J.'s allergic) and there are always plenty of high chairs.
Uncle Maddio's Pizza – Can you tell we really like pizza? This is one of the few restaurants where we can order goat cheese on A.J.'s pizza, along with fresh spinach.
Chik-Fil-A – Last and definitely not least, we love the chicken and waffle fries here. The playground is also a big hit! Plus it's a Georgia business.
Restaurant.com Survey

Below is Restaurant.com's list of their Top 25 Kid-Friendly Restaurants*:
TGI Friday's- Greenville, SC
Carrie Cerino's Ristorante & Party Center- North Royalton, OH
BB King's Restaurant & Blues Club- Orlando, FL
Sweet Baby Ray's Barbecue- Elk Grove Village, IL
Vazzy's Cucina- Shelton, CT
Yogurtini- Overland Park, KS
Harvest Grill- Coon Rapids, MN
Sweet Frog Premium Frozen Yogurt- Rock Hill, SC
Estela's Mexican Restaurant- New Port Richey, FL
Wolfgang Puck Bistro at Macy's South Coast Plaza- Costa Mesa, CA
Lakeshore Grill at Macy's Southdale- Edina, MN
My Big Fat Greek Restaurant at Chandler Mall- Chandler, AZ
Thirsty Marlin Largo Grill and Bar- Largo, FL
Greenbrier Restaurant- Gatlinburg, TN
Anna's Pizzeria- Apex, NC
Pittsburgh Steak Co.- Pittsburg, PA
Ground Round Grill & Bar- Bangor, ME
Horton's Seafood- East Providence, RI
Shula's America's Steak House- Center Valley, PA
Barn and Company- Chicago, IL
Harmon Brewery and Eatery- Tacoma, WA
Seaside Grill- Pompano Beach, FL
La Parrilla Suiza- Mesa, AZ
Magic Time Machine- Dallas, TX
Woodfire Resturant – Severna Park, MD
$25 Restaurant.com Gift Card Giveaway
This is great for a date night or taking a friend out to lunch. Enter to win $25 Restaurant.com gift card by Monday, October 7, 2013 at 12 a.m.  Visit Restaurant.com to search "restaurants by city, cuisine type, average entrée price or atmosphere to find the right place that suits your dining needs."
a Rafflecopter giveaway

Disclosure: I received a $25 Restaurant.com gift card in exchange for this post.